Rant: We have been working pretty hard this week - on the order of 14-16 hours a day. Now, this isn't a problem in and of itself, because one of the causes is that we have some good training lined up. But yesterday we were forced to endure a 90 minute status meeting that started at 1600! 90 f'in minutes for a status meeting of a team of 20 Soldiers. WTF. Anyone who has worked with me knows how much this would drive me crazy. And again today we almost missed dinner chow because a few oxygen bandits wanted to hear themselves talk.

A few choice quotes from meetings like this:

"I know it goes without saying, but ..." if it goes without saying, then shut the hell up!

"I know the Sergeant Major just said this, but I want to reiterate ..." the Sergeant Major just said it, we all heard it and clearly so did you, so shut the hell up!

"I don't really have anything to added to that." (but then you proceed to restate exactly the same points that the person before you just said) Shut the hell up!

"Yada, yada, yada", "Excuse me chief, Sergeant Hammer just covered that.","Umhhh, oh, well then can you restate what the resolution was, I wasn't paying attention"Rrrrrrrrgghhhh!

Ah! Yeah. It's just we're putting new coversheets on all the TPS reports before they go out now. So if you could go ahead and try to remember to do that from now on, that'd be great.OK, maybe I slipped into a daydream at this point, but PLEASE shut the hell up!

Absurdity II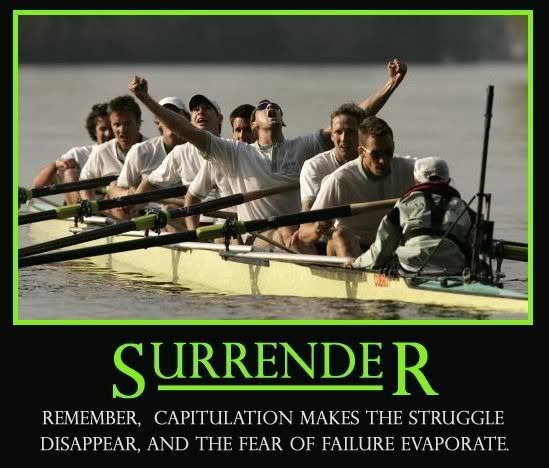 "
Democratic leaders engineered passage of legislation requiring the withdrawal of U.S. combat troops to begin within 120 days, and to be completed by April 1, 2008. The measure envisions a limited residual force to train Iraqis, protect U.S. assets and fight al-Qaida and other terrorists.
"
This is the same Congress that unanimously confirmed General Petraeus, promised to give him the support he needed, and heard him say he would need until September to report back on the progress his approach would make. For those who have never experienced it, this is called being set up for failure.
As I've written before, there are indications that progress is being made, but no one in Iraq is going to be motivated to follow through on these glimmers of hope if they see that we, America, are going to abandon them to the thugs who would terrorize them.
It is true that Iraqis want us to leave, who would want their country to be occupied? Well the Bosnians for one, and many Rawandans, and Sudanese I would guess. Many groups who were fighting US troops even last year have turned on al-Qaeda.

I was standing there with Abu Ali, with American soldiers and 1920s people milling all around. We had certainly killed a lot of his people, and the 1920s certainly had killed many American soldiers. During severe fighting with al Qaeda in April 2007, the 1920s reached out to American soldiers, and together they have been dismantling al Qaeda here in Baqubah and other places.

Al Qaeda's ultimate failure in much of Anbar and now in parts of Diyala relates back to one of the pillars of success—or failure—in this war: Values.
-Michael Yon

Discuss amoungst yourselves.